When you join one of our exclusive communities your monthly donation will go directly towards supporting the monkey of your choice at Sibu Wildlife Sanctuary!
Each community has different levels of benefits…
Receive:
Access to our regular email newsletter
A personalized Star Supporter certificate
A fact sheet about your chosen monkeys
A screensaver
Receive:
Access to our monthly Primate Protector community email updates, including exclusive photos and stories of our residents lives!
A personalized Primate Protector certificate
A fact sheet about your chosen monkeys
A screensaver
Receive:
Access to our Howler Hero community quarterly video updates, allowing you an exclusive glimse into their world!
Access to our monthly Primate Protector community email updates
A personalized Howler Hero certificate
A fact sheet about your chosen monkeys
A screensaver
Meet the monkeys…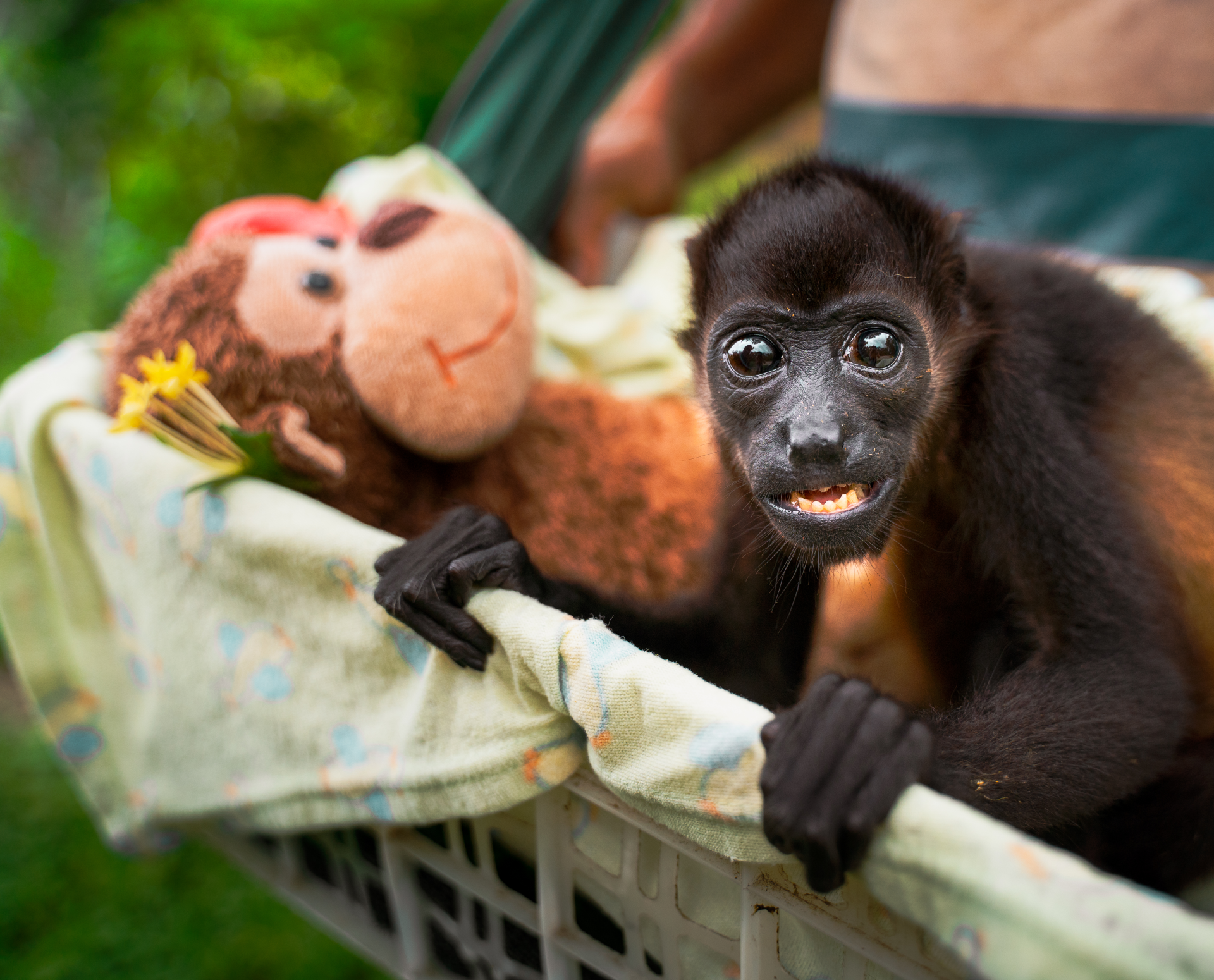 Support Alex & Andrea
Arriving at Sibu Wildlife Sanctuary in 2019 after suffering a severe electrical shock on power lines, Alex and Andrea required lifesaving surgery. In order to avoid blood poisoning from their burnt limbs they each required the amputation of their right arm and part of their prehensile tail.
Andrea's strength and will to live throughout her own arduous recovery inspired Alex. Seeing her not only survive but thrive despite her disabilities lifted Alex out of a deep depression. The bond they have formed through this shared experience is evident, and now Andrea and Alex are inseparable in their large jungle canopy home.
Your support will help to enrich Alex and Andrea's world!
Support Chiquitin & Pippi
Pippi was rescued when she was only 7 months old, suffering brain and spinal damage. Extremely thin, lacking motor control and unable to walk or climb, Pippi required a lot of specialized care. A combination of monitored feeding, to personalized enrichments and physical therapy helped her become strong and healthy.
But with her impared mobility and sometimes erratic behavior due to her brain damage, Pippi needs to live with a monkey who will nurture her rather than dominate her.
Support Pippi so she can continue to thrive.
Support Gibson, Greyson & Jafet
Support
Gibson, Greyson & Jafet
Gibson, Greyson and Jafet all grew up in rescue centers after being orphaned as infants. Unfortunately not all monkeys orphaned at a young age are able to successfully complete their rehabilitation. Sadly this was the case for Gibson, Greyson and Jafet, who became too reliant on humans and would approach their caretakers. It was clear they could not survive in the wild, and they were transferred to Sibu Wildlife Sanctuary for lifetime care.
The three boys have a lively dynamic! Gibson is the most playful of the group, and can usually be found cheekily grabbing Jafet's tail.
Support Gibson, Greyson and Jafet to help us provide an enriching life for them at Sibu Wildlife Sanctuary.
Support Jazz
Jazz the spider monkey had a difficult start to life, kept in a tiny cage by drug dealers who abused him, even cutting off one of his fingers. Luckily he was confiscated by police and taken to a rescue center. Due to his trauma and the dominance of the other spider monkeys at the rescue center, Jazz was unable to live with their troop. His stress behaviors increased over the years and in 2022 Jazz needed a new home.
At Sibu Wildlife Sanctuary, we designed a beautiful and spacious habitat especially for him. As he is encouraged to develop some of the climbing skills he was unable to learn when younger, he has become increasingly confident and now happily swings through his carefully designed habitat.
Supporting Jazz will help him to live the long, happy life he deserves.
Support Lily, Miel & Zuki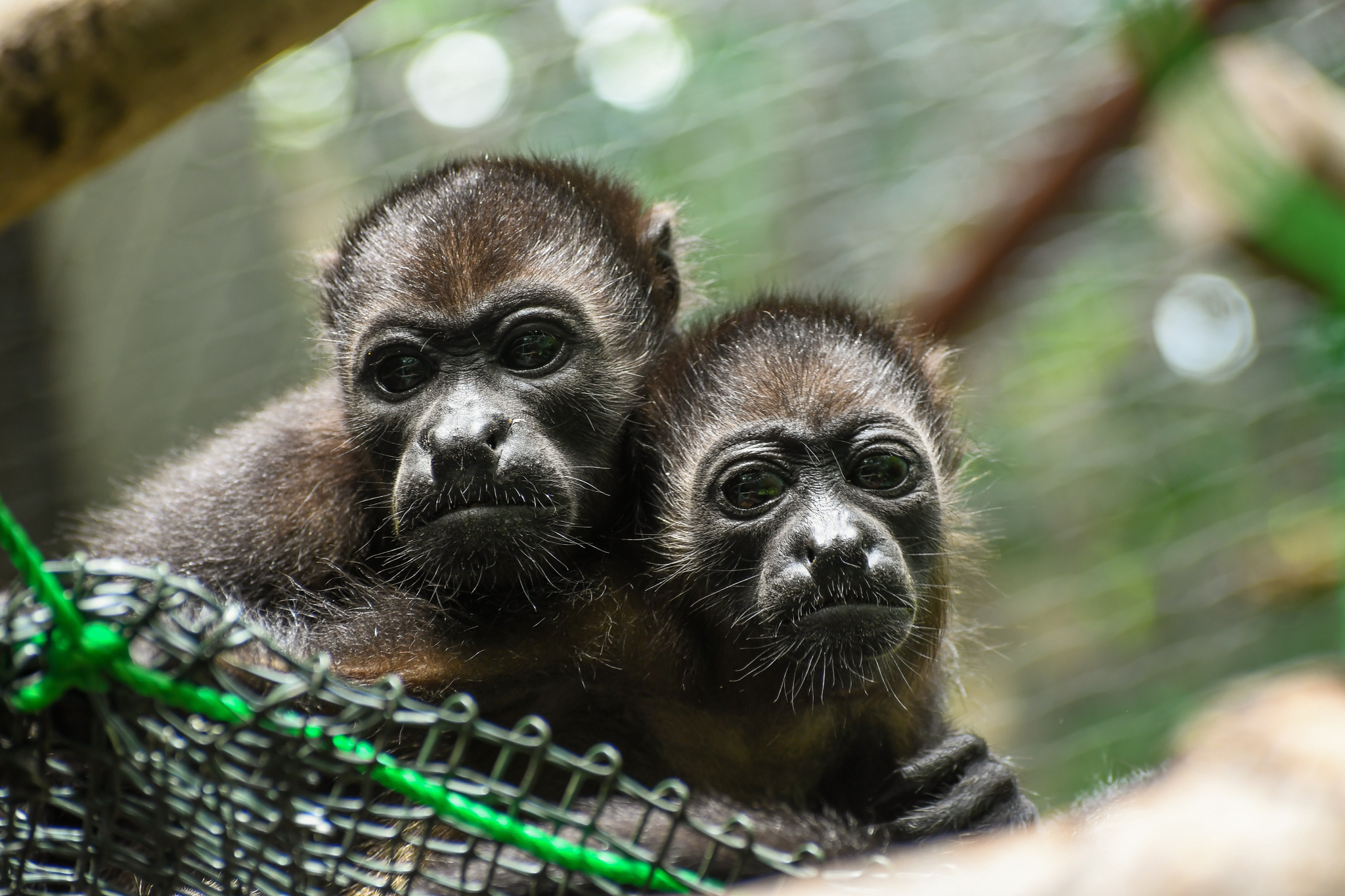 Support Lily, Miel & Zuki
Lily, Miel and Zuki are the youngest primates at Sibu Wildlife Sanctuary. Miel and Zuki's stories are unfortunately common, both left orphaned after their moms unknowingly used deadly electrical lines as a bridge between two trees, sustaining fatal injuries.
Lily's history is more of a mystery. Found in a box in the back of a car during a routine traffic inspection, she was fortunately saved from a traumatic life in the illegal pet trade.
The three juvenile monkeys are now in the process of learning the essential skills required to survive in the wild. As they mature they will graduate through more complex habitats until they are old enough to be released into the jungle.
Support Lily, Miel and Zuki through rehabilitation and back to their true home in the wild.
Support Pepe
Rescued when he was under one year old, Pepe had lost his mother to an electrocution and was torn from her body by a vicious dog, losing an eye in the process. Luckily he was rescued and taken to recover at a wildlife sanctuary.
Sadly the sanctuary he grew up in had too many male howlers to be able to give Pepe the space he needed and deserved. He was living in a habitat shared with two other males, but as they matured the alpha became more dominant and aggressive, eventually attacking Pepe. Transferred to Sibu Wildlife Sanctuary, Pepe has been given a second chance at survival, where he can interact with his neighbors without risking his safety.
Supporting Pepe will help to give him the future he deserves.